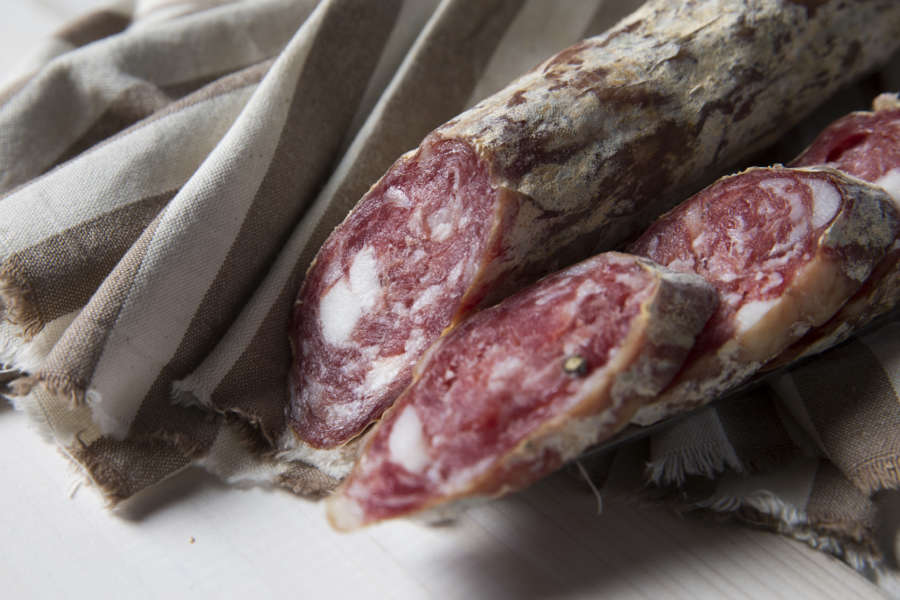 Excellence in meat and cold cuts
> The salame Piacentino PDO
The Salame Piacentino PDO is processed exclusively in the province of Piacenza and is one of the tastiest and most appreciated traditional Piacenza products.
Piacenza producers have been skilfully making this salami since Roman times. Over the centuries they have developed all the specific skills necessary for the selection of lean pork cuts and their mixing with the lean components and strong spices that make Salame Piacentino so tasty.
What makes this salami so tasty and particular is its flavoring, using salt, black or white pepper, nutmeg and an infusion of red wine and garlic, which give it a unique and characteristic flavor.
At sight, the slice of Salame Piacentino has a bright red color interspersed with pinkish white fat. It has a sweet and delicate flavor and a fragrant and unique aroma, deriving from its characteristic coarse grain and from the particular aging conditions, which must last at least 45 days.
The processing area of ​​Salame Piacentino extends only in the areas of the province of Piacenza at an altitude of less than 900 meters above sea level, to guarantee the perfect environmental and climatic characteristics: green hills, wooded valleys and rich waterways, framed by the great river Po and from the heights of the Emilian Apennines.
This Salame cannot be missing from a nice platter of Piacenza cold cuts, for a truly authentic and tasty aperitif or appetizer. It is also excellent in combination with cheeses, in particular Grana Padano and Provolone.
Our producers are waiting for you to take you to the places of processing and reveal all the secrets to best savor the Salame Piacentino PDO.