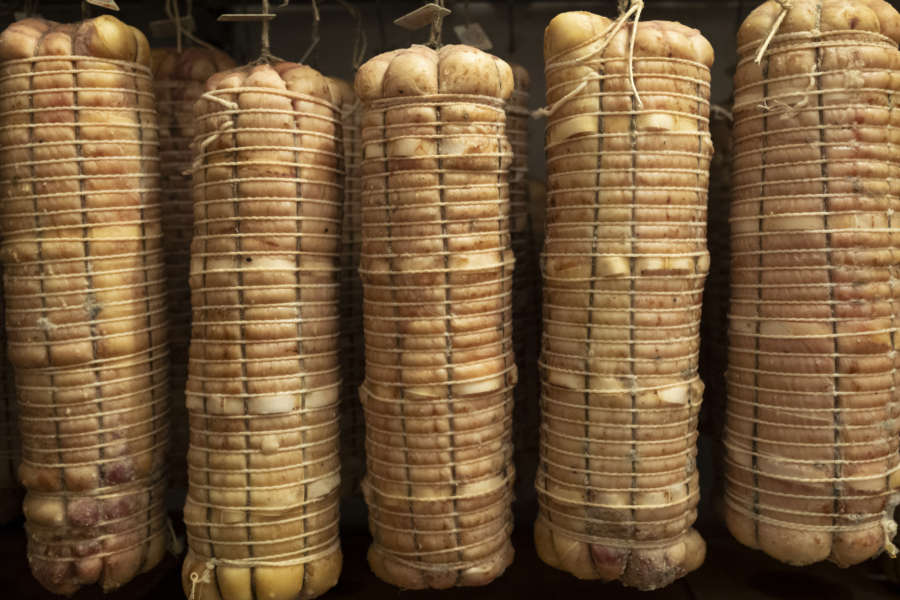 Excellence in meat and cold cuts
>
The Pancetta Piacentina is one of the typical products with a protected designation of origin of Piacenza, which confirms its very high quality and excellence. The processing of this delicious product has been handed down from generation to generation since Roman times, but it probably has even more ancient origins. Even today, expert producers apply the classic processing methods, protected by the production regulations of the Pancetta Piacentina.
Pancetta Piacentina PDO is obtained from the cut of meat that can be assimilated to the "belly" of the pig, that is the softer and more adipose part, which allows to have that richness of fat that distinguishes this tasty cold cut.
With a characteristic cylindrical shape and, when cut, shows a typical alternation of circular layers of bright red and pinkish white. The scent is delicate, but not without pleasant spicy notes  from the special dressing  combining salt, pepper and cloves. The real Pancetta Piacentina melts in the mouth, thanks to its softness due to the fatty parts, which also determine the delicate, distinctly sweet, particularly appetizing flavor.
The raw material to make this delicious pancetta comes from pigs strictly born and raised in Emilia-Romagna and Lombardy, while the processing area includes only the areas of the province of Piacenza at an altitude below 900m above sea level. Here the climate and the landscape, with its green hills and its woods, are crucial to obtain the typical characteristics that make this salami absolutely delicious and above all not achievable elsewhere.
Pancetta Piacentina is excellent if enjoyed alone or accompanied by fresh bread, or served on a rich platter of cold cuts and cheeses, for a whirlwind of greedy flavors.
What are you waiting for? Get to know the places and people who make Pancetta Piacentina PDO a truly authentic and exceptional product.