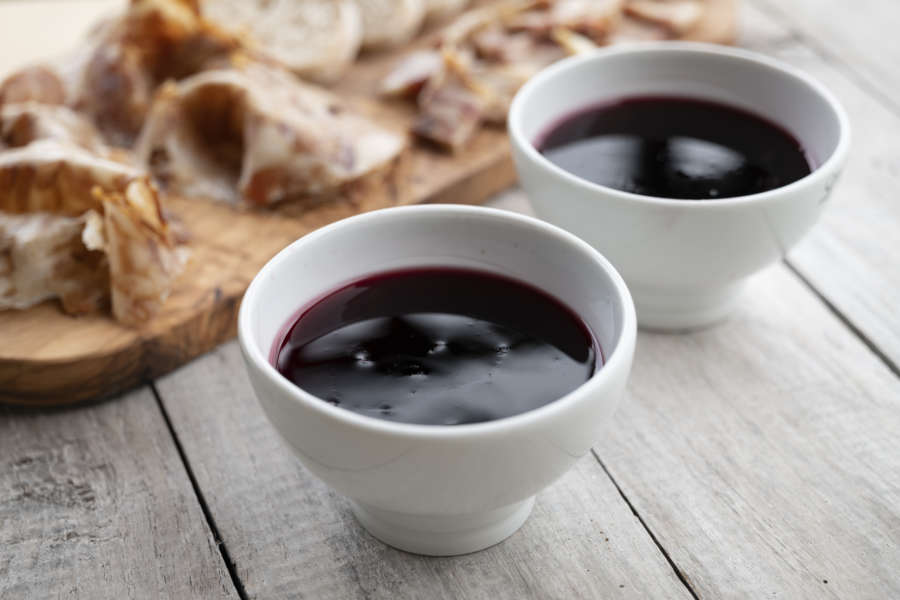 Ancient traditions and unique tastes
>
The Gutturnio dei Colli Piacentini  red wine is produced only on our hills, result of the older vines, Barbera and Croatina; it was one of the first wines to have received the Denomination of Controlled Origin in Italy, in 1967.
The story of its name is interesting: it derives from the "Gutturnium", an ancient silver cup in use in Roman times, in which this wine was drunk at the end of a meal shared with the guests, as a sign of fraternity and friendship. According to a more recent tradition, Gutturnio is served in a white ceramic bowl.
Gutturnio is undoubtedly the king of Colli Piacentini wines. A full-bodied red, tasted in 3 variations: Sparkling, Superiore and Riserva. For greater quality and authenticity, Gutturnio Classico is produced in the typical and historic areas of the DOC, that is, the hilly area from Val Tidone to Val d'Arda.
Gutturnio Frizzante DOC has the bright red color of a ruby. It is a fresh and original wine, with a vinous and characteristic aroma and a dry and sweet taste, ideal to accompany our PDO Piacenza cured meats. It has an alcohol content of 12 °.
The characteristic Gutturnio Superiore and Classico Superiore DOC shows an intense ruby ​​red color. It has a dry and calm flavor that makes it a particularly fine wine, with an alcohol content of 12.5 °. Enjoy it with cheeses and red meats.
The refined Gutturnio Riserva and Classico Riserva DOC has a savory and pleasant aroma and a dry and full-bodied flavor. Its color is intense ruby ​​red, tending to garnet. It is ideal to accompany game and tasty meats. The Riserva type owes its name to the aging of 2 years, of which at least 6 months in wooden barrels, to preserve its best qualities for longer. It is produced only in vintages of particular value to guarantee unique flavors on the palate and has an alcohol content of 13 °.
Do not miss the opportunity to learn how an excellent wine of ancient tradition is produced: our winemakers will take you to discover the Gutturnio, among rows, cellars and bottles to open!